The hardest part of traveling with young children? If you ask me, it's getting from point A to point B without losing my sanity. Trying to juggle the kids, the luggage, and yes, even the booster seats while keeping everyone happy is enough to test anyone's patience. I'm always looking for gadgets and gear to make the process easier, and I recently had the opportunity to test out the RideSafer Travel Vest during a family vacation to Florida.
Sit down, parents. This is a game changer!
The RideSafer Travel Vest is a certified alternative to a booster seat and safely restrains children ages 3+ and between 30 and 80 pounds. (And yes, it really is safe, exceeding federal standards, although you can check on your specific state requirements here.) The harness is worn as a vest and integrates with the existing seat beat in the vehicle. It comes in three versions — designed for lap-only belts or lap-and-shoulder belt systems.
And here are all the reasons I really, truly love it:
It's Easy. Not only did it safely restraint my kids, but it was incredibly simple to use. It took just a few seconds to put the vests on the kids before we loaded into the vehicles, and then maybe 30 more seconds to hook in the seatbelt. We used the RideSafer Travel Vests in two different Ubers and multiple times in our rental car without any trouble.​
It's Portable. It made our travel so much easier by eliminating the need to lug around bulky seats or rent them, which is just plain gross. These vests are lightweight and compact. You can literally just ball them up and toss them into your carry-on luggage or suitcase.
The Kids Love Them! They are incredibly comfortable for the kids. The first time we used them, both kids fell asleep within 5 minutes. That's saying a lot for my boys, who rarely sleep in a vehicle.
Now let's talk more about using it safely. Below is a photo of two kiddos, ages 4 and 9, correctly using the RideSafer Travel Vest (Because although the above photo of my son is cute, he's not sitting back correctly in the seat and the vest should be lower for a better fit. Don't worry, though, this was only a pretend ride for the purpose of the camera -- the vehicle wasn't actually moving.)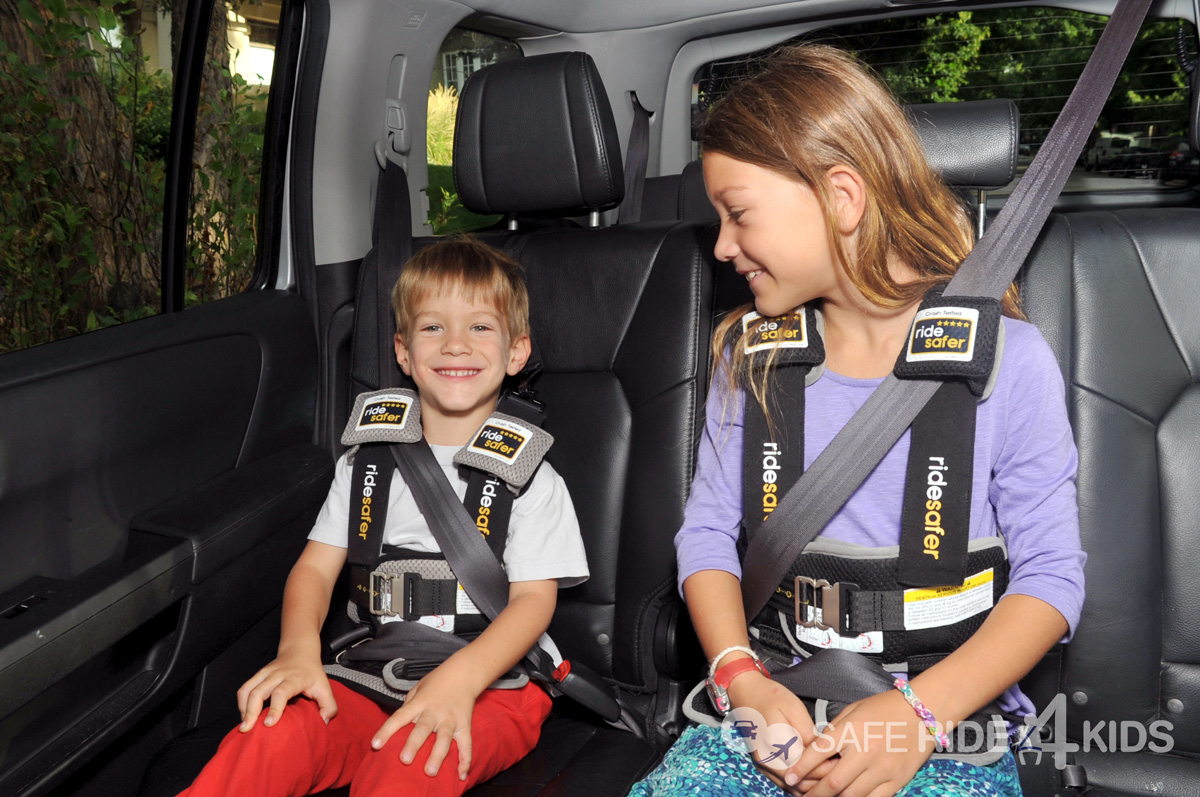 ​
Looking for more safety tips? Check out this review article by Super Car Seat Geek, local moms who are nationally-certified Child Passenger Safety Technicians (CPST) and passionate about keeping children as safe as possible in and around cars.
Want to learn more about the RideSafer Travel Vest or purchase one for your kiddos? Visit them online at saferide4kids.com.
Disclaimer: I received two complimentary RideSafer Travel Vests for the purpose of this review. However, all opinions are my own.