My kids snack ALL DAY LONG! I can't think of one single day that I haven't tried to encourage them to choose a healthier snack. My three-year-old (Little Miss Picky Pants) is notorious for not finishing her dinner and then begging for something an hour later. In the past, my go-to snack for her was a banana, but now she is getting tired of bananas. That's why I was thrilled when Sprout sent us some of their new plant based fruit puree pouches and snacks for her to try.
I appreciate that Sprout provides transparency to parents in all that they do, from the ingredients to the packaging used. They are the first and only brand to offer 100% clear packaging on all of their pouch products, so you're able to see the ingredients. Their recipes are made with honest, pure, USDA certified organic and non-GMO ingredients that could be found in your own kitchen.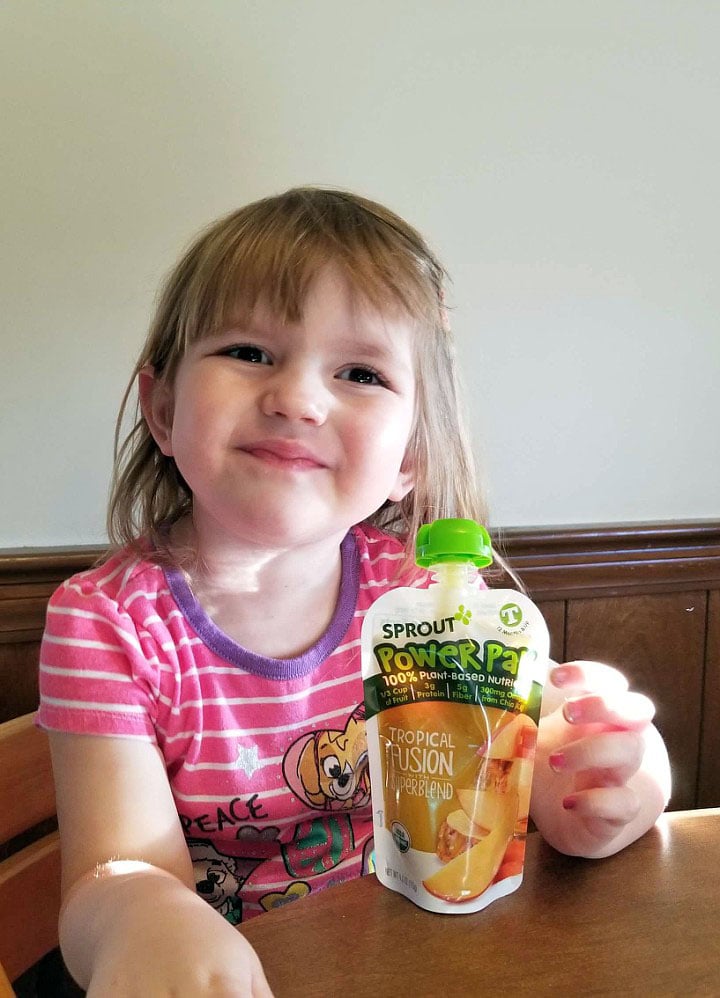 Sprout's Plant Powered line includes lots of yummy flavors, including Butternut Blueberry Apple with Beans and Carrot Chickpea Zucchini Pear. Each dairy-free and vegan-friendly pouch contains vegetable-based proteins to keep your little ones full!
So, what did Little Miss Picky Pants like? The Sprout Plant Protein Power Pak Kiwi Banana & Spinach was by far her favorite. Funny that she liked the banana one, huh? She ate the whole thing and then later came back asking for another "one of those yummy things." I call that a win for me as mom and a win for Sprout for making a "yummy" fruit/veggie pouch!
The other fruit puree flavors that we tried (and when I say "we" I mean my two kids, myself and my two elderly parents!) were Sweet Potato & White Beans, Butternut Blueberry & Apple with beans, Pumpkin, Apple & Red Lentil & the Tropical Fusion (my absolute favorite)! Even my 82-year-old father thought they were "pretty tasty."
We also munched on the Sprout Organic Curlz. The three flavors are White Cheddar, Broccoli, and Sweet Potato & Cinnamon. All three flavors were given the "seal of approval" by my three-year-old and five-year-old. I found the container a day or two later empty in the play room. (Yet another sign that it was winner!) I am not a momma who "demands" organic everything, but I do appreciate an organic snack that I can pass off to my children instead of a regular cheese curl. These Sprout Curlz were well received by both mommy and the kids!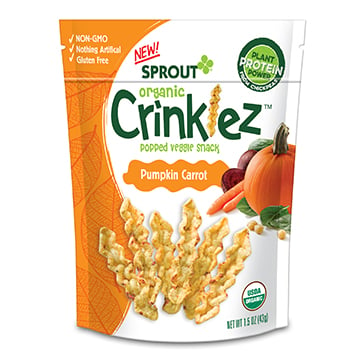 Overall, my kids (and other family members) enjoyed the Sprout products and I'm happy to have found a quick and easy healthy snack for both of my children that also travels well. Want to try some for yourself and see if your children like them as much as mine? Grab a buy one, get one free coupon and start snacking!
Disclosure: Complimentary products and compensation were provided for this review. All opinions are my own.